Are Traditional schemes make any sense to invest your money? Here is a complete solution for your confusion- 
We all generally understand the need for savings for the future, unlike the people in the western countries who love to live on credits. Saving for the future is in our genes.
Further Reading: What is Mutual Fund
However, among all those people who save money for their future needs or goals, only a few of them invest their money.
There could be many reasons to it, maybe they don't know where and how they should invest or simply they do not want to invest because of the lack of trust in the markets or do not want to take any kind of risk with their hard-earned money.
There are many traditional schemes options that an investor can choose. These include PPF, FD, RD, etc. But is it still a good idea for an investor to invest in these safer schemes now?
Well, there is no answer that fits all the investors.
The needs of different investors vary from each other and can never be the same.
And hence these instruments might attract to those types of investors who want to keep their investment capital secure and expect to earn nominal returns.
TRADITIONAL SCHEMES V/S NEW AGE INVESTMENT AVENUES LIKE MUTUAL FUNDS
| | | |
| --- | --- | --- |
| Sl. No. | Traditional Investments | New Age Investment Avenues |
| 1 | Public Provident Fund (PPF) | Mutual Funds (MF) |
| 2 | Senior Citizens Savings Scheme (SCSS) |   |
| 3 | Fixed Deposit (FD) |   |
| 4 | Recurring Deposit (RD) |   |
| 5 | National Savings Certificate (NSC) |   |
1.) RETURNS

2.) LIQUIDITY

Also Read: PPF ( Public Provident Fund)– A complete overview
3.) RISK 

4.) TAXATION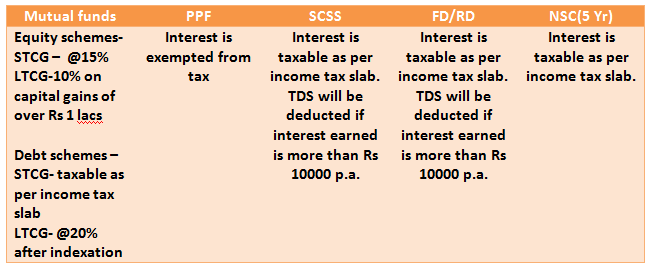 CONCLUSION
Investors who are willing to take the risk in order to earn superior risk-adjusted and tax-adjusted returns can invest in mutual funds as these are the most suitable product if one wants to create wealth over a period of long term.
While conservative investors can look for safe investment options and earn a reasonable rate of return on their investments as for them, preservation of capital is the topmost priority.
Remember, not all investors are aggressive and have a higher risk appetite and have the same time horizon.
Hence, one must make an informed decision considering all the factors and choose the investment product wisely and should not only chase returns.
Further Reading: Business World